For a number of years, the City of Coos Bay, friends of Steve Prefontaine and the Prefontaine family discussed the possibility of creating a mural honoring the great Coos Bay distance-running icon. These efforts came to fruition in 2017 with the completion of three large murals designed by Erik Nicolaisen and produced by the talented artists of Old City Artists, LLC. The panels depict three significant stages of Pre's illustrious running career: as a national record-setting Marshfield High School runner, his ascent as a collegiate athlete at the University of Oregon and his post-collegiate years highlighted by his scintillating performance in the 1972 Olympics in Munich, Germany. The murals are sure to grace downtown Coos Bay for many years to come and be a vivid reminder of the larger-than-life impact Prefontaine had on so many, his enduring love of competitive running and his hometown of Coos Bay.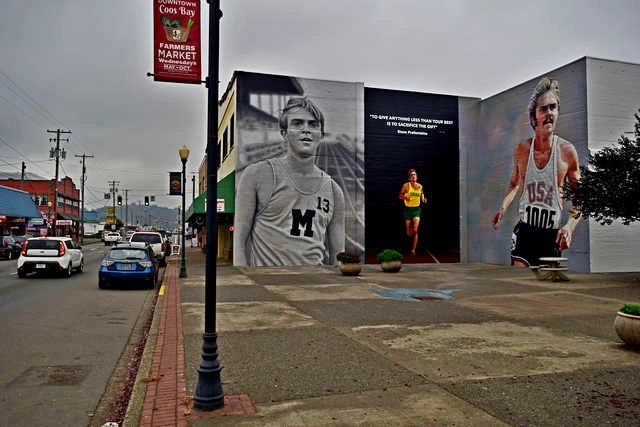 Get set for a weekend of fun at the 46th annual Bay Area Fun Festival. A full two-day roster of events and entertainment includes:
Cruz the Coos Rolling Car Show on Saturday
Pre Run for Kids, Sunday at 1:30PM
Mall Market with Arts, Crafts, Games, and Food
Coos Sand 'n Sea Quilt Show, 10 am-4 pm, Boys and Girls Club
Festival Parade plus Live Entertainment
4th and Anderson in downtown Coos Bay and finishing at Marshfield High School's Prefontaine Track Coos Bay, OR.